In the middle of June you can experience white nights in Stockholm. It's dark for only 2.5 hours: from 00 to 02:30 o'clock. Even when it's gets dark, it never gets compeletely dark, you can without problems see everything as if it was 23 o'clock and not kl 01. I think that 21th June is the longest daylight day of the year, so I was 1 day late.
I have a LotusScript application which interacts with webcamera using Windows API and can take pictures and movies at scheduled times. So I put the webcam on the balcony for the whole night 22 June-23 June and recorded the process of getting dark outside and then getting light again.
As the webcam does not work well when it's dark, I made also a reference shot at 01 o'clock (the darkest time) with an ordinary digital camera.
Here is a Flash movie I composed from the taken images. Click the image to open the movie.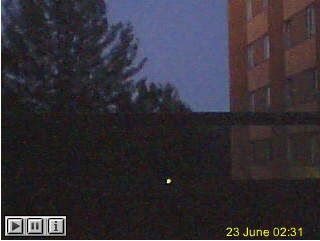 Here is a reference shot at 01 o'clock (click to view full size):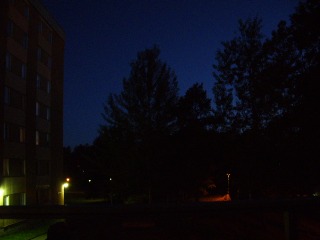 P.S. I will later publish the Lotus Notes application I used for taking webcam pictures. It can be used to spy on your Lotus Notes users if they have a webcam :)